Funeral viewing after the death of a family member, families usually held ceremonies in order to respect and honor the person who died. This has been a tradition in all countries in the world. Each family differs in terms of their preference for funeral homes, wake, and burial. Some choose a quick commemoration while some prefer the traditional wake and burial that last for almost a week. Good thing there are plenty of options available for families and besides the basic funeral services, they can even choose to customize the ceremony. Funeral viewing is one funeral service that you should be aware of when facing the death of a family member. In this article, you will discover more about it and some of the companies that offer this service in Houston, TX.
What is a funeral viewing?
Funeral viewing
is an informal activity where the families, relatives, and friends of the deceased pay their respect after the body has been prepared for a funeral. A funeral viewing can happen when the body is in the casket when the ash is in the urn, or preparation of memorial pictures. This event is different from a funeral because it doesn't have to take place in a formal place like a funeral home or church. Once the body or ash is ready, family and friends can do the funeral viewing.
What is the purpose of a funeral viewing?
The main purpose of a funeral viewing is to give families time to mourn, support each other, and say final words to the deceased on a personal level. In some places, a funeral viewing is also known as visitation or calling hours. Although you may not notice this event when someone dies, this is a common activity in funerals.
How does a funeral viewing work?
Since it is an informal event, it's easy to understand how the process works. After the body is prepared and put into its proper container, either on a casket or an urn after cremation, families, relatives, and friends can view it to pay respect or offer prayers. It can take place at home of the family or at any
Houston funeral home
. It can happen before the funeral. There are also times that it happens the day before the funeral or the day of the funeral. The body is displayed to allow visitors to see the deceased.
What happens during a funeral viewing?
During a funeral viewing, there are some events that you may encounter. The first thing you will experience is being uncomfortable because you don't know what to do or what to say during the viewing. Well, it's normal. The funeral viewing is meant to be solemn and quiet. This is a depressing event for the family and offering your sympathy helps to lessen the stress. Also, remember to know the schedule of the funeral viewing so you won't show up too late or too early if you are related to the deceased. The calling hours may be scheduled at any time of the day. It is a reminder that dressing conservatively is needed during a funeral viewing. You are not going to a special party. You are going to pay respect and that should be reflected in how you dressed. Many people also struggle to think about what to say during a funeral viewing. Just a simple "I am sorry for your loss" or "Condolences" is enough for the family of the deceased. Expect that during funeral viewing, the arrangement can be different depending on the tradition, religion, and preference of the family. Make sure to take note of it so you would know what to expect.
Why do a funeral viewing?
The number one reason why you should do it is that it is common in all commemorations. As long as you can give the best service before the burial of your loved one, do it. By including a funeral viewing in your funeral services, you allow people acquainted with the deceased to say their final goodbyes. You let other people pay respect even if it's the last chance they have. A funeral viewing doesn't cost too much because it merely involves the displaying of the body and people viewing it so why not take the chance? Also, it can happen during the funeral so there is not much to worry about.
What to consider when choosing the right funeral service provider?
Truth to be told, there are plenty of things to consider but you don't have to go through it all when choosing the right funeral service provider. Your priority is listing the funeral services you want to happen during the wake or funeral viewing. If the funeral home can do the events you listed, that's one good thing. After that, try to estimate the cost of those services by talking to the funeral home. You should be able to decide on your budget even before you inquire so that you would have something in mind in case there are any complications to your budget and schedule. Don't forget to consider the location of the funeral home as well. You wouldn't want a place far away from your home and unreachable by your relatives and friends. Last but not least, review the previous works of the funeral home. In this way, you would know that it can deliver the quality of services you want for your loved one.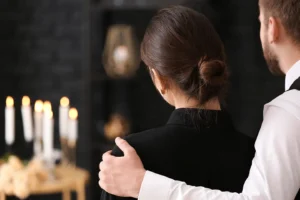 At some point in our lives, we all face trying times; times when a funeral home can provide comfort and support for the family of
Read More »
If you need the best burial services in Houston, TX, look no further than the experts at Best Funeral Homes Houston. We have many years
Read More »
The information in this post is general information only and is not legal advice for your particular legal problem. Please seek legal counsel from a
Read More »