The information in this post is general information only and is not legal advice for your particular legal problem. Please seek legal counsel from a trusted legal professional in your area.
Dealing with the grief of a loved one is challenging in itself. More so if you experience price gouging by unsavory funeral homes seeking opportunistic times to strike. It is estimated that the average full-service funeral can cost between $7,000 – $10,000 USD.
Unfortunately, when there is despair or disaster there will be individuals looking to profit. So it is important that you are informed and prepared so you ensure your family doesn't become the next victim.
There are funeral homes that will insist on packages without disclosing everything included in the package.
Always ask for an itemized list of each package the funeral home asks for, what it includes (in detail), and what the final cost of each item is. Be sure to get this document in writing to protect you from any future issues.
And finally, unless you have signed a statement of goods and funeral services, you have not agreed to a contract with the funeral home. Federal law requires them to give you a copy of this when you sign it. 
Now that you know how to protect yourself from price gouging, let's discuss the most common questions families have when planning for a wedding.
In Houston, Texas, there are two things to remember when you are availing of the service of home funerals. Remember, no matter what your situation is, these are your rights as a family of the person who died.
1) Planning For Funeral Cost
During the planning stage, you have two essential things to remember: appointment of an agent, and price lists. When appointing an agent, it is your right to choose someone who will follow your wishes for the disposition of the body of your loved one.
Some members of a family may worry about this in the planning stage because they think they may not follow their instructions when they entrust the arrangement of the body to someone else.
The law states already that they can designate a person to act as an agent if this case happens.
Next in the planning stage, you also may request the price lists so you can plan the arrangement based on your budget. By law, the funeral director should give you the general price list if you request it. You can also get a price list over the phone.
The director cannot ask for any personal information before he/she gives the price lists. Some funeral homes disclose their price lists on their websites and brochures but aren't required to do so.
During the arrangement stage, there are two options for you. The first one is to do-it-yourself the funeral service. Most families in the state choose because of its affordability and control.
If you do a DIY funeral service, what you can spend on it is based on your budget. You also have full control of the services you want to conduct such as the burial or crematory, the wake, body arrangements, and official paperwork.
If you don't want a funeral home, you can just opt to hire your own funeral consultant or assistant.
However, there are states that require you to get a funeral director such as New York, New Jersey, Connecticut, Illinois, Indiana, Michigan, Louisiana, and Nebraska.
Your other option is to use a funeral home. According to the Federal Trade Commission's Funeral Rule, you are only required to pay for the funeral products and services that you want.
You don't have to buy a package if you don't need it such as embalming, hearse, funeral services, and so on. Also, the funeral home must give you the list of all the items and their prices.
If there are basic services fees, you cannot decline them. The basic fee would include the cost of getting the needed permits and papers, the death notice, and holding the remains.
3) Embalming Costs ($200-$700 estimated)
Is embalming required or can I decline this process? That answer can vary from state to state. According to Texas law, the funeral director should disclose to you that embalming is not required.
The law says that direct cremation and immediate burial do not need preservation. So, most times, keeping your loved one in a refrigeration unit is all that is needed to keep the body preserved until the cremation.
Although it is optional some funeral homes will suggest doing the embalming, especially if there will be funeral viewing in an open casket.
The instances that will require you to embalm include when the body crosses the state line from Alabama and if the body is transported by a common carrier in Minnesota, New Jersey, and Nebraska.
There are also states that will let you embalm or seal the casket of the body is being transported by a common carrier.
4) Cremation Costs ($600-$1,000 estimated)
As a family of the deceased, you can choose either burial and cremation. For cremation, you can have your alternative container for the ashes. Texas law doesn't require you to have a specific container or a casket for the cremation.
You may go for cheaper wood boxes or cardboard. The funeral home can provide it for you, you may buy it somewhere, or do it as long as the size is proportionate to the body. In terms of an urn, you can either buy it from a funeral home or bring your own.
The funeral home should not require you to buy an urn directly from them. You can just use a plain container if you plan to scatter the ashes or use a plastic and cardboard container if you plan to bury or place it in a columbarium.
When scattering the ashes, you may do it on your own property or anywhere as long as you are careful. There are families who do it at the sea.
However, remember that ashes should be dispersed at least 3 miles from the shore under the federal guideline. The EPA does not require any of this.
Also, when transporting the cremated remains, families should only use the US Postal Service. The ashes should be well kept in a container with a padded exterior.
5) Burial Costs ($2,000 – $5,000 estimated)
Besides cremation, you can choose burial. This process usually includes the use of a casket or vault. Speaking of a casket, this can be one of the most expensive products you will pay when you hire a funeral home.
The funeral doctors should also give you the list of caskets and their prices and show you the displays, You can ask for cheaper caskets. They do not require you to purchase their caskets even after viewing display models.
The funeral home should not charge you a handling fee on any casket you buy from a third party.
When choosing a cemetery where you can bury the body, it pays to do your homework. Many states do not require cemeteries to post their itemized pricing.
Most trustworthy cemeteries will be transparent with their pricing. Ask about their rules about grave decorations, allowed markers, and visitation hours.
There might open and closing fees during the burial, so be diligent.
Additional to burying the body in cemeteries, some family opt for home burial.
There are states that allow this on private properties as long as it is outside the city limits, but different zoning restrictions and permits exist for different municipalities.
In Washington, California, and Indiana, home burial is not allowed.
In terms of the marker or the headstone, you can buy the services of cemeteries and other offline and online companies.
There are cemetery restrictions regarding this so ask your cemetery first. If your loved one is a veteran, he/she may be buried in a national cemetery with no fees.
6) Payments and Complaints
The last process is the payment. All families may receive a written and itemized statement after agreeing to the service of a funeral home and before paying the agreed-upon amount.
The statement should state exactly the products and services bought, their costs, and the total amount to be paid. If there are any legal, burial, or crematory rules, it should be set out in the same paper.
Last but not least, you can file complaints in case they have violated your rights. Contact your Funeral Board, the Federal Trade Commission, or a state attorney.
We hope this article was helpful in navigating the possible costs you could incur with a funeral. Always do your research and find the best funeral homes in your area to help you carry out your final goodbyes.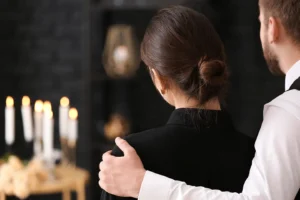 At some point in our lives, we all face trying times; times when a funeral home can provide comfort and support for the family of
Read More »
If you need the best burial services in Houston, TX, look no further than the experts at Best Funeral Homes Houston. We have many years
Read More »
The information in this post is general information only and is not legal advice for your particular legal problem. Please seek legal counsel from a
Read More »